This year continued the trend of great years for music. Since I have been a semi-professional reviewer, every year has been getting better and better in terms of the sheer number of records that I'm enjoying. Last year was the best year I've ever had, with a Top Ten that I thought would be impossible to beat. This year was different, with a plethora of releases I like, but maybe spread out a bit more, with less at the absolute top of the spectrum. This year's Top Ten may be slightly weaker than last year, but the number of albums that were good enough to compete for spots was even higher, which speaks to the depth of the field.
The other note about this year was how much it was the year of surprises. If you had asked me at this time last year, I wouldn't have expected most of this music to have been so good, or hit me so hard. Several albums I had penciled in for the list didn't come close to making it (like Halestorm and The Neal Morse Band), while bands I either had never heard of, or had long since written off, came back with a vengeance. Overall, while this was another great year for music, it was one that definitely caught me off-guard, much like the circumstances that led to the need and the creation of this site. It was a year for surprise, and a year for change.
With that being said, let's start with an Honorable Mention:
Iron Maiden – The Book Of Souls
I proudly wave the flag for the reunion era of Iron Maiden. It's my favorite incarnation of the band, and "The Book Of Souls" continues their run of strong releases. There's some truly glorious work here, from the epic "Shadows Of The Valley", to the more rocking "Tears Of A Clown", and more traditional material like "The Man Of Sorrows". The only thing holding this back from a spot in the Top Ten is the length. At over an hour and a half, it's simply too much music, and the two longest tracks both stay well past their welcome. I consider this a slight step down from "The Final Frontier", but Iron Maiden is always quality.
Favorite Song: "Tears Of A Clown"
And now, we move on to the Top Ten:
10 (Tie). Baroness - Purple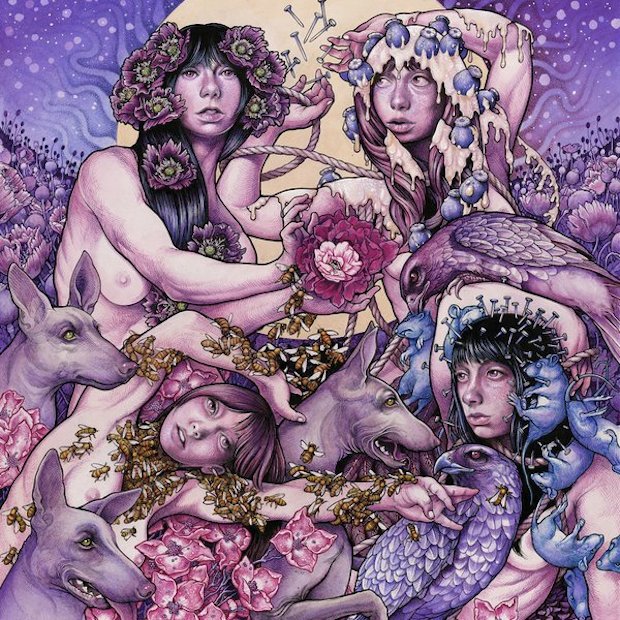 Baroness has been one of those bands that gets widespread critical acclaim, but I've never been able to grasp. There was always too much sludge in their sound for me, so it was only with tempered expectations that I went into "Purple". What I heard is an album that has changed my entire outlook on the band. Through the dirty sound, I can now hear that they have become a classic rock band that is as interested in crafting beautiful songs as they are crushing you with their heavy riffs. The production of the album is truly awful, but the music is so strong that I'm willing to overlook that and keep listening to it again and again. This, to me, is what Mastodon has been trying to do, but done so, so much better. If it had come out earlier, and sounded better, it might have climbed considerably on this list.
Favorite song: "Morningstar"
10 (Tie). W.A.S.P. - Golgotha
For as long as WASP has been around, I have never been a fan. Outside of their aberration "The Crimson Idol", I never found anything in their sound or style to enjoy. That leads to a massive surprise with "Golgotha" making it onto this list, a record that I repeatedly had to remind myself was made by the same band. This album removes all the ham-fisted stupidity of the band's early days, and replaces it with a mature sense of songwriting that heaps on heavy doses of melody. Blackie Lawless sounds as good as he did in the 80s, and the songs deliver strong hooks and fantastic lead guitars all around. It's a bit bloated, and I can see why people could get annoyed by the religious bent of the closing track, but this is a record that rewrites my perceptions of WASP.
Favorite Song: "Golgotha"
9. Lunden Reign – American Stranger
Not many bands begin their career with a concept album, but that's what Lunden Reign did here, and the result is an album that brings the classic Heart sound to a new generation. This is a tightly-wound album of classic rock that features some glorious guitar tones, and well-crafted songs all around. Concept album can also get bogged down in the gimmick, but that doesn't happen here, as the album can be taken on face value as a bunch of top-notch rock songs that feel both fresh and timeless. It's the kind of record that's easy to overlook, but well worth the effort to give it a try. The only thing I can't speak to is the story of the record, as I was only sent a download without any of the lyrics or liner notes.
Favorite Song: "Mary"
8. Ghost - Meliora
Ghost is a band that I've always wanted to like, but never could fully commit to, because their material wasn't consistent enough. After two highly uneven records, Ghost found their groove this time, putting out a fantastic album that showcases everything there is to like about the band. There's still the requisite mix of spooky Blue Oyster Cult proto-metal and shimmering pop melodies, but they're better constructed, and the set of songs rarely loses focus. Ghost is heavier than ever here, which plays right into their image. The thundering guitars of "Cirice", mixed with the ethereal chorus, is near perfection. This is the record that proves Ghost is worth all the hype.
Favorite Song: "Cirice"
7. Karnataka - Secrets Of Angels
There are countless ways to hear about new bands. With Karnataka, I saw a mention of their name on a forum I frequent, which led me to a sampler of their then upcoming album. Those sounds were enough for me to get in touch with the band, who sent me an album that shocked me. I am seldom a fan of highly symphonic bands with classically trained singers, but this album does it better than I've ever heard. The orchestrated elements are integral to the compositions, rather than being slapped on top of a boring rock song, and Hayley Griffiths brings every melody to life. The closing twenty-minute epic does drag a bit, but before that you get nearly forty minutes of absolutely perfect music. Karnataka made quite an impression with this album.
Favorite Song: "Fairytale Lies"
6. Year Of The Goat - The Unspeakable
Sitting in my queue, I wasn't going to listen to this album, because the cover art led and the name led me to believe it was another black metal record I had no interest in. But I decided to give it a chance anyway, and to my utter shock, what I heard was an incredible record that did Ghost better than Ghost. "The Unspeakable" is yet another album in the growing line of occult-tinged retro rock, but the songwriting is so sharp that it leaves any gimmick in the dust. The old-school vibe is handled with a deft touch, so as not to take it too far, but the key here are the songs, which bring hooks on top of hooks. There's a dark charm to these songs that elevates them above what are already great melodic rock songs. Several of these choruses are irresistible, and made me question what took me so long to listen to the album.
Favorite Song: "The Wind"
5. Graveyard - Innocence & Decadence
Coming into the year, this was my most anticipated album that was likely to be released. Don't let the position fool you; despite being in fifth place, "Innocence & Decadence" is a great record. It shows that Graveyard continues to be the only band that rehashes the 70s who know how to properly do it. They're able to take the simplest of ideas and turn them into songs that pound into your head without you even realizing it. Graveyard doesn't amaze you with their playing, or their singing, or even the production of their records, until you realize you can't forget what you've heard. The only reason this record doesn't sit higher is because while I love this album, I can't help but think they've already done even better.
Favorite Song: "Too Much Is Not Enough"
4. UFO - A Conspiracy Of Stars
Here is another shocking case. While I appreciate UFO, and I think Phil Mogg has one of the more under-appreciated voices in rock, their last few albums have been entirely forgettable. I had more or less written them off entirely, until I happened to find myself intrigued enough to give their new one a listen. I couldn't have anticipated being utterly floored by what I heard. This is not only a great album, full stop, but it's easily the best album of UFO's career. Yes, that includes the vaunted years with Michael Schenker. There's a definite maturity to these songs, and they tend towards the bluesier side of their sound, but it so fits where they are at their ages. Phil Mogg's voice is weary in a beautiful way, and he spins the best set of hooks of his career. The album art is horrible, but the music is remarkable.
Favorite Song: "Sugar Cane"
3. Nightingale - Retribution
"White Darkness" is an album I've loved for years, and I was content thinking it would be the last Nightingale album. So when this album came along, I didn't know how it could live up to that record. It didn't; it utterly crushed it. "Retribution" is a record I described as a masterpiece when I reviewed it, and those are words I stand by. If you like melodic rock, there's nothing better that came out this year. Every song is a winner, with "Forevermore" standing out as my single favorite song of the year. Dan Swano has a voice that's completely original, and if you enjoy him, he's at his best. These songs are relatively diverse, the sound is breathtaking on the dynamic mix, and the melodies are so strong that the album can be played again and again without ever getting stale.
Favorite Song: "Forevermore"
2. Michael Monroe - Blackout States
Music is supposed to be fun, at least in my opinion, and that's why this album edges into the second slot. "Blackout States" takes up the blueprint of Bad Religion's "The Dissent Of Man", mixing punk rhythms with classic rock guitars and power-pop choruses. It's a sound I've rarely heard, and one that didn't make any waves, despite it's greatness. Here, we get thirteen songs that deliver one heck of a good time, while imploring you to sing along. Yes, there's one unforgivably insipid song, but even without it, this is an album that puts a smile on my face every time I listen to it. It doesn't do anything special, but it reminds me of why I love music. But like that Bad Religion album, it finds itself one spot short of being the year's best.
Favorite Song: "Goin' Down With The Ship"
1. Jorn Lande & Trond Holter - Dracula: Swing Of Death
Here's the shock of the year. While I have always loved Jorn as a singer, hearing that he was working on a concept album telling the story of Count Dracula was news that made me laugh. It was a recipe for disaster, an album that was supposed to fight "Nostradamus" as one of the worst in the history of metal. But then I got a chance to hear the album, and it's impossible for me to have been more wrong. This album is everything I feared; it's a horrifically cheesy retelling of the story that goes so far as to have sound effects of blood sucking. But it is also a brilliant bit of work. Jorn's love for the story shines through, as not only are his vocals as good as ever, but his songwriting has never been better. These songs are ridiculously catchy, and riotously fun. It is the musical equivalent of Adam West's version of Batman. If you can appreciate the (I assume intentional) tongue-in-cheek approach, this is the musical event of the year, because you're never going to hear anything else like it. If years are defined by what you're never going to forget, 2015 is defined by "Dracula: Swing Of Death", because I'm never going to forget this album.
Favorite Song: "Save Me"