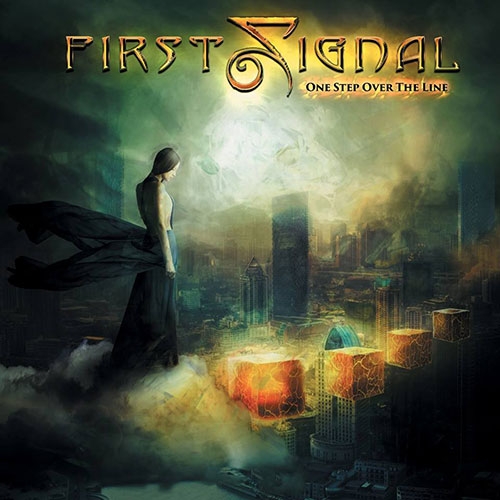 There are certain bands that, even if you're a fan of a particular style of music, you just haven't had the time or the opportunity to go back and listen to. Sadly, that is all too common these days, as the number of bands that I'm 'supposed' to know grows each and every year, and likely numbers somewhere in the thousands. One of those bands is Harem Scarem, who released some of the best received melodic hard rock albums of their time. If I'm being honest, I have never heard them. But I recognize the name enough that when this new album featuring their singer Harry Hess came along, I figured it would be good place to start righting that wrong.

First Signal is not so much a band as it is a project that allows Hess to sing a collection of songs he has acquired from various songwriters. That idea is one that can be taken in two ways. It's either something that allows for greater diversity in the songs, or it makes it harder to unify them into an album, since no two people write in quite the same way.

The first song, "Love Run Free", takes us back to the 80s with some incredibly cheesy keyboard parts, and vocals that could have been mistaken for Richard Marx, when he still tried to rock. The synth solo might be a bit much for my taste, but the song is a solid melodic rock/AOR number that establishes the tone of what to expect from the album. Big hooks, strong vocals, and plenty of elements that will embarrass anyone who wasn't a rock fan in 1988.

"Still Pretending" is exactly the kind of song that Steel Panther parodies, but vocal similarities aside, it perfectly encapsulates why that band is the joke they are. Music requires a degree of sincerity, either in the writing or the performance, that they can't deliver. Hess can, because it's clear he is devoted to this music, so even if it does sound out of step with the modern world, it does so in a way that is endearing.

For the most part, you know what you're getting with every song. The album delivers rather consistently, with few exceptions. The one place I would say it stumbles in when it tries to push a touch too far into heavier territory. "Kharma" lacks the hooks and uplifting energy of the album's best songs. It does serve a purpose to give some balance to the record, but it's just now quite as sharp a song as it needed to be.

Compare that to a song like "She Is Getting Away", and the difference is clear. The latter song is everything melodic rock should be. After the moody verses, the hook explodes with energy and drips with catchiness. That's what we come to AOR for, and that's why almost every track here delivers wih aplomb. The album's selling point is definitely Hess' vocals, though. Even when the songs veer off into being a bit too generic and 'on the nose', he has the vocal charisma to pull them back. Not every singer does.

The conclusion to draw is that "One Step Over The Line" is a fine melodic rock album featuring a heck of a singer. That alone should be reason enough to listen to it.