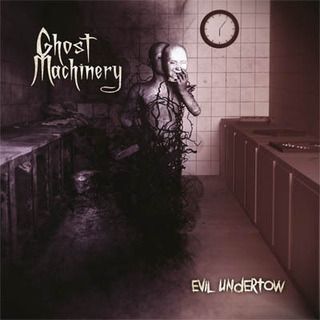 This has been a great year for melodic rock and metal. There have been tons of good to great albums that embrace the lighter, more fun side of this kind of music. It's been refreshing to find music that doesn't make me miserable, that doesn't wallow in the attitude that all that is metal must be dour, disgusting, and only for the dedicated misanthropes of the world. Ghost Machinery wants to add themselves to that list, bringing us the third album from this side project of members of Burning Point and Stargazery. I'll be honest and say that I can't tell you exactly what differentiates this band from those others that share multiple important members, as I'm not familiar with those outfits. We'll stick to discussing the music Ghost Machinery is busy making.
"Arms Of The Stranger" kicks things off with some hugely cheesy 80s style synths, before the song kicks it up into a full-on mix of traditional and hair metal. I don't say that to insult the music, but rather to pinpoint the feeling I get from it. Hair metal had its selling points, and Ghost Machinery taps into some of them. It's a short and snappy song that puts a smile on your face, then gets out of the way before you can get tired of it.
That can actually work to a disadvantage at times, like on "Kingdom Of Decay", which uses organs to try to create an atmosphere, but doing so is difficult in three and a half minutes. The song sounds like it needed to be slowed down a bit, and stretched closer to five minutes. At its current length and tempo, it's incomplete in some way. Songs that go for something beyond the norm need time to establish themselves, and Ghost Machinery didn't give it to themselves with this one.
The comparison that comes to mind as I'm listening to the album is one you might not expect; Circle II Circle. Frontman Pete Ahonen's voice has some similarities to Zak Stevens's throaty tone, and the music is sitting in the same realm of chugging riffs and melodic choruses. That is both a blessing and a curse, because while I am a fan of some of Circle II Circle's albums, hearing the connection raises my expectations, as I begin comparing the two bands.
The title track of the album lives up to those comparisons. It's the shortest song on the record, but it's got a killer hook, and the layered vocals just make it sound even bigger. There's a hint of AOR to it, which might explain why it works so well. Ghost Machinery is by no means a super heavy band, but even at their level, backing off just a bit gives the melodies more of an opportunity to latch on. When they do, as that track demonstrates, they've got a lot going for them.
Mid-tempo tracks like "No Easy Way Out" are right in their comfort zone, and "Tools Of The Trade" is where it all comes together. It's heavy enough to be satisfying, but the chorus is massive, and it's hard not to find yourself chanting along with it. Really, there's no misstep anywhere on the record. Every song is a solid illustration of Ghost Machinery's sound, with none of them making me want to skip ahead.
But what I will say is that while this is a perfectly good record, and it's enjoyable to listen to, it also doesn't have anything about it that demands I come back to it. That's not necessarily a criticism, because there aren't very many records each year that do, but it's hard to say my enthusiasm is as high as it might be otherwise. "Evil Undertow" is a good record, and I enjoyed my time listening to it, but I can't tell you it's something that I'm still going to be listening to a week from now, a month from now, or a year from now. But for now, it's a good record, and it's one I'm not going to complain about when it pops up in my queue.