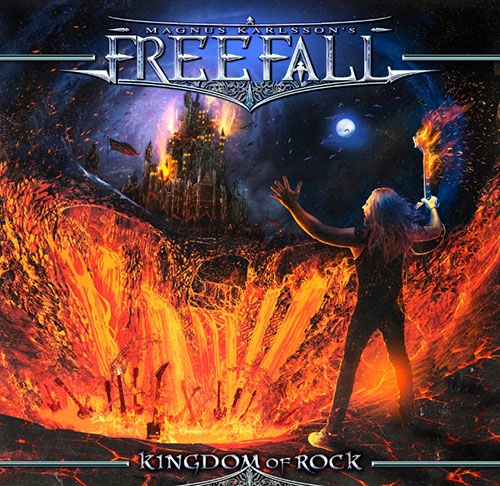 Magnus Karlsson might be known to you as the mastermind of the first three Allan/Lande albums, or maybe as a current member of power metal mainstay Primal Fear. While I love those Allen/Lande records like the next fan, what he should be best known for is the album he wrote for Magnum singer Bob Catley, the exquisite "Immortal". That album is not just what I consider Magnus' finest outing as a songwriter yet, but one of my favorite metal albums ever. It's the best distillation yet of how Magnus is able to fuse his abilities as a guitar player with a sense of melody that is nigh undeniable.
"Kingdom Of Rock" is the second album under his own name, although I will admit I never actually got around to listening to the first one. I'm usually not a fan of what I consider 'jukebox' albums, with different singers on every track. So even though I am a fan of Magnus as a songwriter, that album slipped by me.
This album kicks off with the title track, voiced by the one and only Jorn Lande. I can't think of a better singer in all of metal right now, and he turns in his typically excellent performance. The song has a hint of that epic flair, and plenty of bombast in the chorus. It's a rollicking time, but there's one issue I can't completely ignore. Magnus has written so many songs in the last decade for all of the projects he's been behind that some of his work is starting to recycle itself. This opening track's chorus harkens back a bit too strongly to the song "Hunter's Night" from the Allen/Lande project.
The songs here were written with these singers in mind, which you can definitely hear in the compositions. Jorn's track has a heavy Dio feel, while Joy Lynn Turner's "No Control" could have come off a radio-rock Rainbow record. This helps keep each singer in their comfort zone, but it also means that Magnus is trying to write in the voice of some singers who simply aren't as melodic as he is. That drags a few of these songs down, because it sounds like the melodies are being tempered down, because the singers aren't used to singing anything that slick.
You could make a case that such is a good thing, but considering how good Magnus is at writing melodies, I have to disagree. When he indulges himself, like on Tony Martin's "When The Sky Falls", not only is the song a thing of beauty, but it pulls something out of the singer too. Martin hasn't sounded this good since "The Headless Cross". Also of note is the dramatic, stunning ballad "The Right Moment", sung by Rebecca De La Motte". The singer should always service the song, and not the other way around. This record loses sight of that once or twice.
But everything Magnus touches has an air of class to it, and this is no different. If you like melodic metal, "Kingdom Of Rock" will have plenty that you're going to enjoy. He's simply too good a songwriter not to have a certain level of quality. This is a darn good record, although I will admit that it's not one of the strongest that he's put together. This doesn't stand up to "Immortal", or those Allen/Lande records. That's not necessarily criticism, because those are truly fantastic records, but it should be said. Still, "Kingdom Of Rock" continues to showcase that Magnus is as good a metal songwriter as there is right now, even if I wish he would focus his talents on a single outlet. These kinds of albums are always tricky, and even though he pulls it off well, I think he would have been better served by limiting the variables, so to speak.