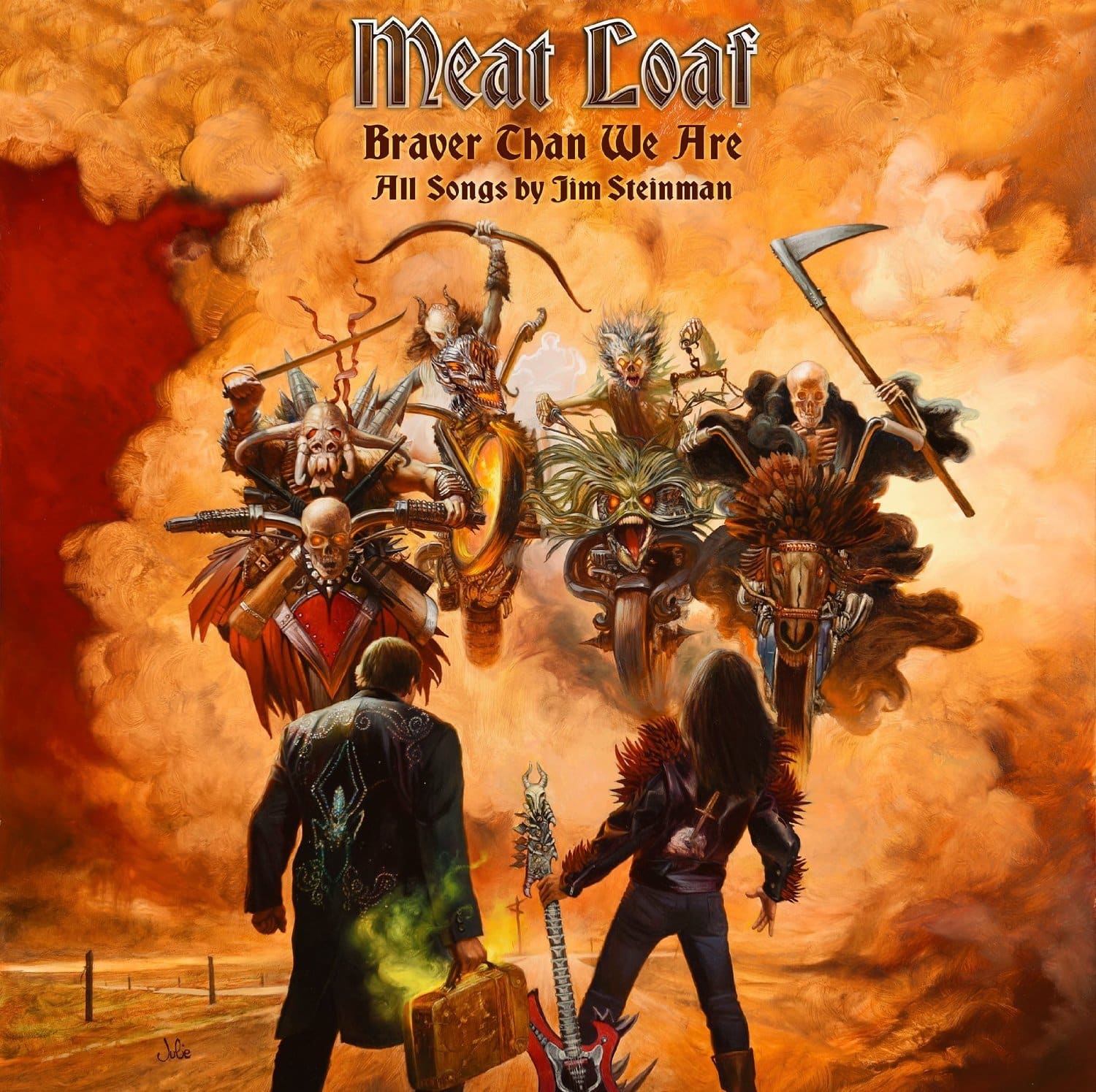 My musical history begins with Meat Loaf. The first single I ever bought was "I Would Do Anything For Love (But I Won't Do That)", and the first album I ever bought was "Bat Out Of Hell II". Suffice it to say, I have been in many ways shaped by the songs of Meat Loaf and Jim Steinman. They are a part of who I am, for better or worse, and while it isn't fair to judge a complete album off of 90 second samples of each track, I heard enough in the first tastes of the upcoming "Braver Than We Are" to speak up.
I'm afraid that this album is going to be a sad, sorry ending to a truly legendary collaboration.
That thought was running through my mind before any information about the album had been made public. Meat Loaf had already recorded nearly every Steinman song of note, which didn't leave me with optimism that an entire album of material could be found that lived up to expectations. And since Steinman has not been actively writing for years, we were bound to do one of Steinman's favorite tricks; cannibalizing his own catalog.
The ten tracks on the album are mostly songs pulled from musicals Steinman has written, and a rehashing of "Loving You Is A Dirty Job". That is a frightening thought. Musicals are an entirely different world than Wagnerian rock and roll, and as expected, the two do not mesh here at all. Despite having heard these songs before, performed in different guises by different singers, these are uniformly slower, flatter versions that suck the life and energy out of them. "More" wasn't the greatest song when it was written and demoed for a Batman musical, but in this form it's even less engaging, for a reason I'll get to soon.
We also get a song written for the defunct project The Dream Engine, "Speaking In Tongues", which is utterly embarrassing for everyone involved. The entire song is built around images of trees, just so we can get the pun, "you've got a spark, I've got wood." Yes, because we need to men in their mid sixties making jokes about erections. I thought it was the lowest moment of Meat's career when he sang the line "I can barely fit my dick in my pants", but at least that was in the guise of an overblown, bragging song. This pun comes in a tender, reflective ballad. It's too juvenile even for Steinman's love of teenage angst.
And I'm not sure how I can ever listen to "Skull Of Your Country" without being reminded that it was turned into something so much better in "Total Eclipse Of The Heart". I understand Steinman recycles, but leaving in the "turn around bright eyes" motif, when it's already world famous in another song, is a decision that begs me to compare this album to ones that are worlds better.
But the worst part of all is the sad fact that Meat Loaf can no longer do this music justice. His voice has been declining in recent years, and from what I have heard here, he is beyond repair. His voice is not just rough, but it's small. The larger than life character of Meat Loaf has been reduced to a singer who can't keep up with any of the women guesting on these tracks. He is flat out out-sung not only by them, but in places by his own backup singers. It's shocking how old he sounds, missing notes and lacking any of the power or passion we've come to know from him. The time for retirement sounds like it's already passed.
If Meat Loaf wanted to finish his career with one more tribute to Steinman, I can think of a better way to do it. My advice would have been to take every great Steinman track he never recorded, and the ones he recorded without the man's input, and redo them one more time under his care. Not only would it have capped off a fitting relationship, it would have removed the need to have a string of albums that neither man wants to remember. I can imagine an album with Steinman-helmed versions of "Bad For Good", "Original Sin", "Left In The Dark", "Nowhere Fast", "It's All Coming Back To Me Now", "Surf's Up" and "Tonight Is What It Means To Be Young".
That would be something truly special. What we're getting instead is a reheated plate of leftovers that we didn't want the first time.
I will give the full album a chance when it comes out, but I think this will be my lone statement about it. I'm too depressed right now to consider writing a more formal review.